Andrew Clements grew up wanting to make movies, but he had no idea that a club he would join in high school — The DeSoto Arts Institute — would catapult him toward that dream.
Clements is a recent homeschooled high school graduate who is a regular at the DeSoto Arts Institute (DAI). He spends his Tuesday nights writing scripts, editing movie clips, operating a camera or calling the shots as a director. As the sun goes down, Clements and other students are still hard at work filming scenes with professional-grade equipment. 
As he awaits an acceptance letter from a distinguished arts school, he's working on directing his second short film he wrote with the DAI, called "All Right." 
The DAI was founded in 2016 by local producer and director Robb Rokk. Rokk and his wife founded the institute to allow students in the area to receive arts education with professional equipment that they couldn't get at school. 
Rokk loans equipment and materials from his media company, Rockwell Visuals, to the DAI so that students can get hands-on experience. He also donates hours each week to mentor and advise students throughout the entire production process. 
Jesaiah Burnett, the DAI program director, joined the program at the beginning because he wanted to get more involved in movie production. A business major at Northwest, he was looking for a way to learn more about media, and the DAI was just the place. Now, four years later, he is producing and directing, and he is leading as well.
"I'm in charge of the program direction, so I help with planning events and coordinating shoots like these," Burnett said. 
He's in the middle of a test shoot where 16-year-old Sydney, another student in the program, is practicing to fall down the stairs for a scene in "All Right." Burnett is helping Clements direct.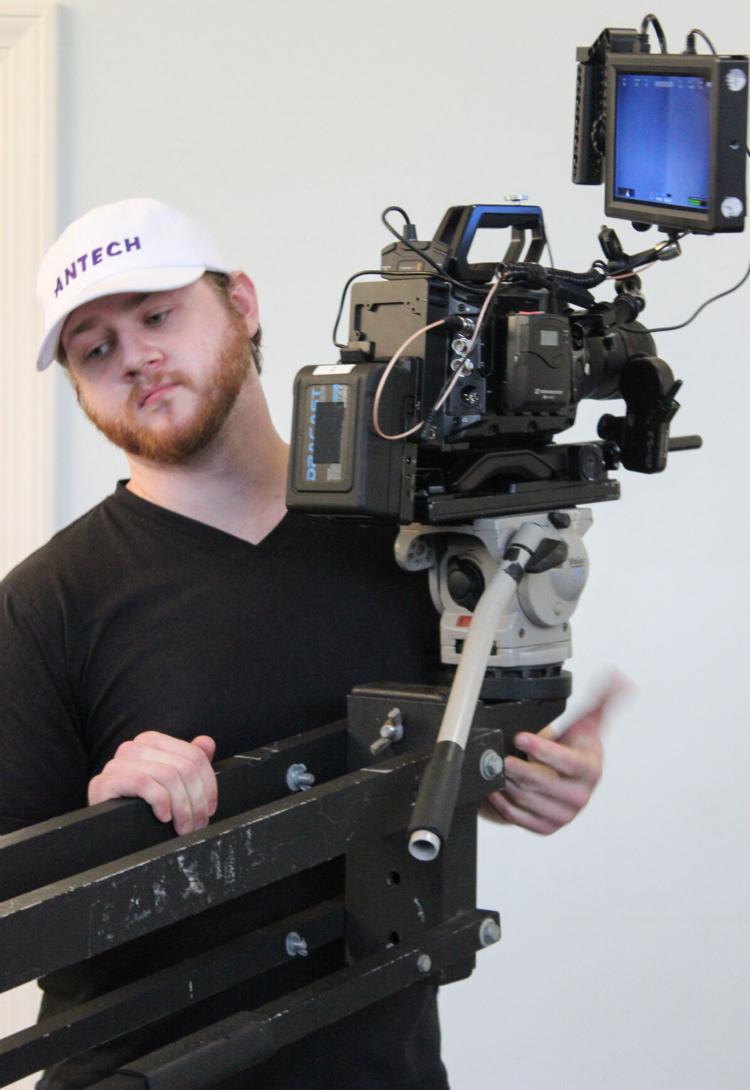 The DAI teaches students ages 7-22 professional filmmaking and other art-related skills. While film is the program's main focus, Burnett said that they are looking to expand into music education, dancing and even STEM. 
The DAI hosts the DeSoto Film Festival each year, where programs all over the world just like this one can submit shorts to be played. Last year, the festival received over 300 submissions that a panel of judges had to sort through and pick the finalists that would be shown. 
The film festival is also used for the students at the DAI to showcase the work they have done over the last year. 
"It's a great way for us to show what we've made, and we try to keep everything family-friendly," Burnett said. 
Located in the back of a church, the not-for-profit organization uses whatever funding and grants they bring in to enhance productions, like adding costumes, set designs and more equipment. Almost all of the mentorship and guidance is volunteer-based, and workshops are free for students. 
"We have about 15-20 kids who we see consistently every week," Burnett said. "We also do summer workshops where we teach 200-300 kids." 
At the DAI, students learn every aspect of film production, from script writing and acting to camera work and editing. With writing competitions, students' scripts can be chosen to be made into shorts.
Two of Clements' scripts have been chosen, and he's been able to see production through until the end. 
"I wrote a short three-page horror film called 'Tickle Monster' and pitched it," he said. Clements said he wanted to direct the short as well, so he worked closely with Rokk and trained on the camera to prepare himself.
"I really felt like I was ready to start directing," Clements said. 
Clements is patiently waiting for his acceptance into Savannah College of Art and Design (SCAD), located in Savannah, Georgia, where he wants to continue his film education. His recruiting adviser at the school is confident in his acceptance, he said. 
"I would love to end up in Atlanta or Los Angeles writing films and directing," he said. "I'm hoping to meet new people and make connections while also learning."
The DeSoto Film Festival is scheduled for April 22-24. The DAI also hosts filmmaking workshops each Tuesday at 6 p.m.