The Mississippi Cottage Food law allows businesses to be run from within homes, making certain types of food to sell without regulation from the health department. There, of course, are restrictions on what can and cannot be made and sold without regular health inspections, but roasting coffee falls under this umbrella. 
Ben and Jen Griffith took advantage of this, and in 2018, they started Griffith Roasting Company out of their own kitchen. 
Ben originally became interested in roasting coffee while he was working at a roasting company in Memphis. He told his wife that he had some interest in doing it himself, so she decided to hear him out, though she was skeptical.
"I guess everybody needs a hobby," she said. 
The two went to work researching roasting techniques, different equipment and where to find the coffee beans, all while maintaining their full-time jobs. The two didn't have a financial backer or any experience running a business, but Jen said this "fun little gray area" made starting this business all the more exciting. 
Ironically, Jen said, her husband is not a frequent coffee drinker, but she said that he combined his love for cooking with his interest in the coffee roasting process.
There are different methods of roasting coffee beans, according to Jen, and she said that her husband prefers the "low and slow" method, for which they use a small oven that they purchased specifically for roasting. 
"It controls the roast and really keeps the full bean integrity," Jen said. "That's why my husband prefers that method."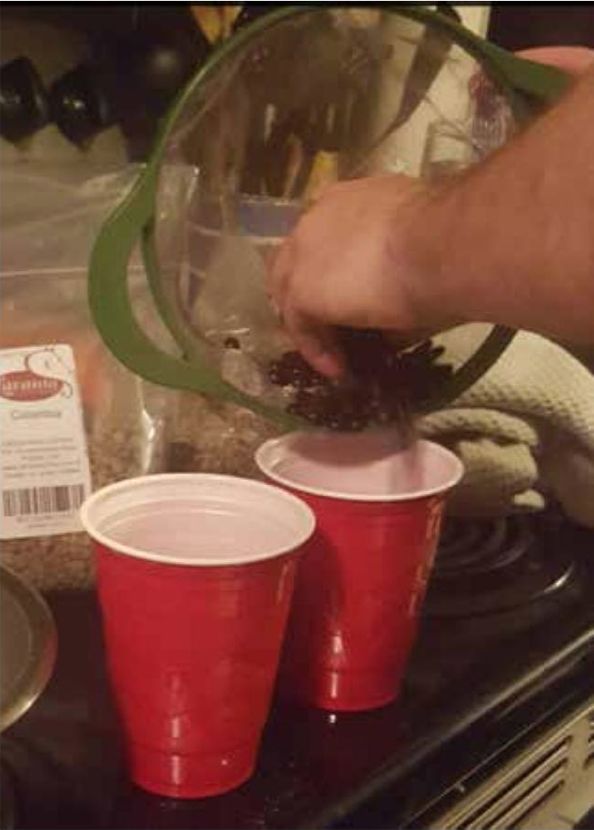 While operating under the Mississippi Cottage Food law, businesses can only make foods that are sustainable at room temperature, like most baked goods, trail mixes, popcorn and coffee. Anything that needs to be refrigerated cannot be sold under this law. Also, businesses cannot use any additional space, like a warehouse or even a shed in their backyard for business operations; all preparation, cooking and packaging must be done in the home kitchen. 
Though Griffith Roasting Company recently moved to its own warehouse in 2020, Jen expanded on some of the rules they had to follow while operating under the cottage law.
"We had to designate on the packaging that we were running under the cottage law," she said. "They also ask that you not post on social media."
Until July, cottage law businesses could not use social media to sell their products. This ban was recently overturned. 
Ben and Jen operate Griffith Roasting Company together, but Jen said that working with her husband has been an ideal situation. 
"It's definitely a fun work balance," she said. "It's all about finding a happy medium."
While Griffith Roasting Company remains a "side hustle" for the couple, they still have big goals for the company in the future. 
"Our goal is to be strictly wholesale," Jen said. "We just had a big official sale to a business opening in Memphis."
On their website, they sell around 10 flavors like Vanilla Sunrise, Irish Kick and Blueberry Muffin. They also sell branded mugs, coffee bundles, and sampling sets for their more indecisive customers. They do personal deliveries in DeSoto County and can now ship to their customers all across the country since moving to a warehouse.
They source their beans from a couple of distributors, one of which is based in Jackson, Mississippi. Those distributors import beans from all across the world to sell to roasters. Jen said that the distributors they use are able to pinpoint exactly where the coffee beans come from and the stories behind them.  
Like many businesses during the pandemic, Griffith Roasting Company had to make adjustments to keep themselves safe while maintaining somewhat normal business operations. Jen said that they started contactless delivery services and taking other safety precautions.
 "It's crazy to be in business with any type of company right now," she said. "It's a wild ride. We're stubborn about goals but flexible about our methods."
Griffith Roasting Company can be found online and on Facebook.