The Hernando Happenings Facebook group has amassed over 20,000 members since its creation in 2016, and Tracie Simmons is one of its newest additions. After her first post, where she announced she'd be selling her homemade salsa, she received 125 orders. Her popularity has only grown since.. 
Her post received almost 200 comments on Facebook about her homemade salsa. Her popularity since then has only grown. 
"OMG I can't wait to try it!" one user wrote. 
"Looks fabulous! I want some!" another commented. 
Tracie received over 125 orders on her first post. She parked her car in the Hernando Kroger parking lot on a Sunday afternoon. When she popped her trunk, she turned around to a line of almost 20 cars waiting to pick up their order. 
"Holy moly, this is really happening," she recalled. "It's a little overwhelming because the first time there were so many."
In one short month, Tracie has sold over 500 containers of her homemade salsa. 
Each week, she posts on the group what flavors she will have available for that Sunday. Along with her pickups that she offers at Kroger, she also sells at the Commerce Street Market in Hernando each Saturday. 
Tracie Simmons began making salsa and selling it almost 25 years ago while living in Alaska. Her husband, a member of the coast guard, was stationed there, and Tracie was looking for a way to keep herself busy while making a little extra cash. 
"I started selling at craft shows, but after we left Alaska I just started giving it to family and friends," Tracie said. "I just recently got back into it."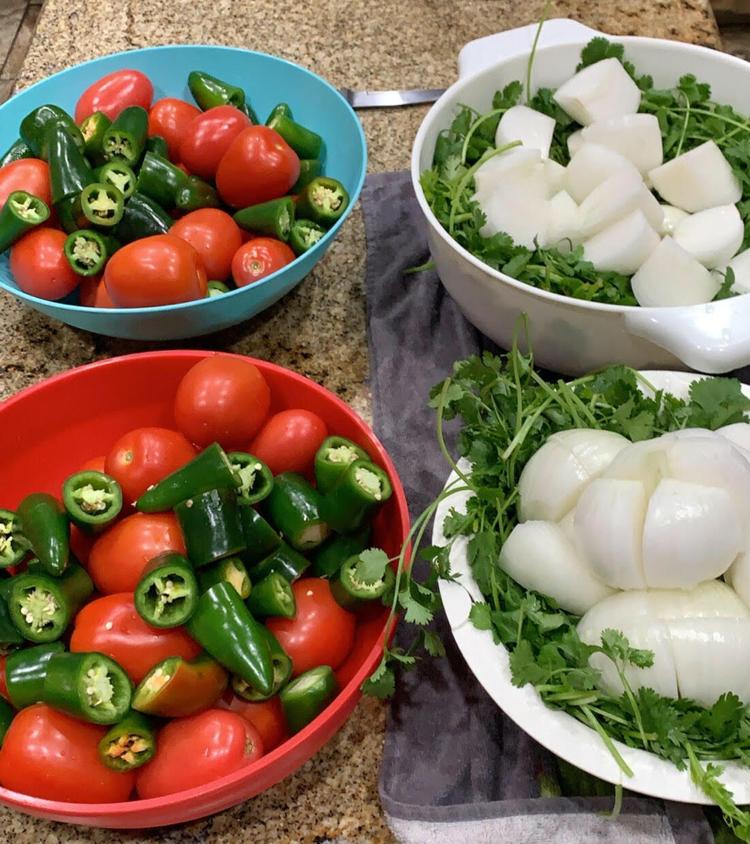 Before the COVID-19 pandemic, Tracie and her family were living in Portland, Oregon. Once her family's lives were turned upside down, she found herself back in her hometown of Wichita Falls, Texas, where her father needed multiple medical operations. She said she started making her salsa again to help cover her father's medical expenses.
Her husband recently found a new job in Mississippi, so in late July, Tracie joined the Hernando Happenings Facebook group. On Aug. 11, she shared her salsa business for the first time. 
"I just leaped into the Hernando Happenings Facebook group and posted (the salsa) in there," she said. "I didn't think it would explode like it did."
Before she moved to Mississippi, Tracie said she only made her traditional medium salsa. As  her popularity has grown here, though, she's made a mild, medium and hot version, and even some made without cilantro to keep up with requests.
"I'm half Hispanic, so I grew up with it," Tracie said. "I used to make it for get-togethers; it was just kind of my go-to."
Like other small businesses in DeSoto County, Tracie makes her salsa under the Mississippi Cottage Food Law. Because salsa is an acidic food, it is shelf-sustainable and does not need to be refrigerated, which is a requirement under the cottage law.
"I make everything here, just a one-woman show," she said. "Sometimes my husband helps out squeezing lemons or whatever else I need."
Tracie is overwhelmed with gratitude, and said she is appreciative how everyone has spread the word about her small business. 
"Just knowing how much everyone is enjoying it and every time someone reorders," Tracie said. "Everyone has been so welcoming. It makes me want to continue doing what I love to do."