Krislyn Hirsch has been here since the beginning. After deciding in college to change her original plan of medical school, she knew she still wanted to work in health care but wasn't sure how. 
"I had seen a sign about the laboratory, and I had had a lot of the classes for it and started going in that direction," Hirsch said. 
Krislyn is a lab technician and lab supervisor. Along with other lab technicians, she is responsible for testing all specimens that come through the hospital — ranging from blood tests and swabs to amniotic fluid and surgical specimens. 
Even though she works with doctors and patients throughout the hospital, patients often never see or meet her. The critical, life-saving work she does often goes unseen.
"We're kind of a hidden department," she said. "We're not one of the front line people." 
As a generalist lab technician, Krislyn keeps up-to-date with each department within the lab, including microbiology, hematology and chemistry. She works as a utility member of the lab team, seeing a variety of work each day.
Krislyn said that while she learned the ins and outs of her job by reading textbooks, the most important part of her education has been experience. 
"A lot of it is hands-on, so just having a good education and good rotations," she said.
At Methodist Hospital Olive Branch, Krislyn serves as the lab supervisor, where she oversees the daily lab operations and helps iron out any issues that arise. From the moment she arrived in 2013, she has helped build the lab from the ground up. 
"When I first came to the lab, it was completely empty," Krislyn said. "There was nothing in there. It was like Christmas every time we got supplies."
Since her first day, she has never had two days that are alike. 
"We're constantly changing, whether it's bringing in new tests or the process is changing," she said. "That's one thing I love about this job, it's never boring. There's always something changing."
In her ever-changing days, Krislyn said that being a leader in the lab gives her a chance to help her coworkers work through issues that come up on the job. 
"That's what I tell them: 'You come to me and I'll help you but I might not know the answer so we'll figure it out,'" she said.  
As her responsibilities at work have shifted to include COVID-19 testing, she said that has made the job all that more interesting.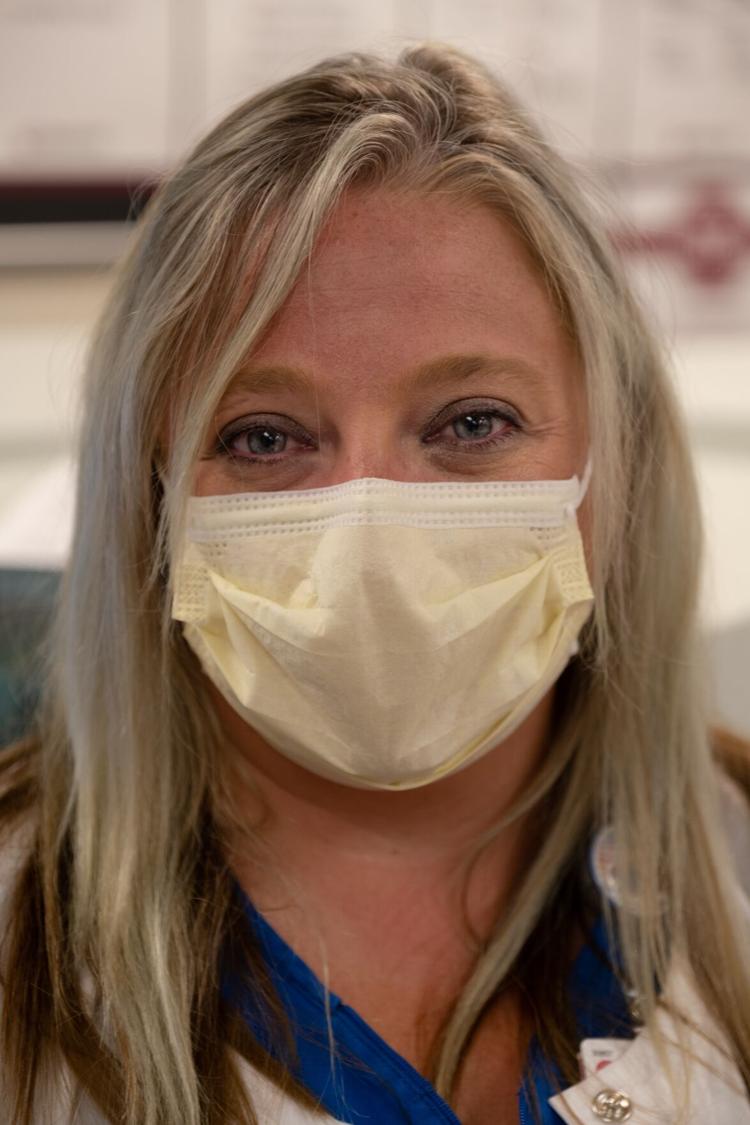 "When we bring (COVID-19 tests) in, there's a lot involved in getting a new test ready," she said. "You know, validations and making sure everything looks good. Pathology has to sign off and there's a lot to it, but it makes it more exciting." 
For now, the lab at Methodist Olive Branch does not run COVID-19 tests. After the test is administered to a patient and collected, the test sample is sent to another facility to be analyzed. Krislyn said, though, that this could change in the near future. 
"We won't do all the testing because we don't have the capacity to do all of the samples, but for in-patients, it will give a faster turnaround time so patients aren't in isolation if they don't need to be," she said. 
Since the beginning of the pandemic, Krislyn has noticed that some elements that she valued about her workplace have become all that more important to her now.
"Teamwork has always been important but I think it's been more important through this process because not only do we need to work with our own team, we're having to work with other teams within the hospital," she said. "I worked the COVID line for the first time this week and that was...interesting." 
"You have all kinds of people out there from all different departments helping whether it's to help with traffic or get the specimens… it's very cool."