Jesse Olmsted has worked across the country, but he's finally settling down — in a workshop full of sawdust, scrap wood and the tools needed to create just about anything.
After a career of mining, Olmsted started his own business doing something different: woodworking.
"This is just the next chapter in my life," he said.
Southern Belle Woodworking — named after Lauren, his wife, who helps in the planning, marketing and other elements of the business — doesn't make things like most places in the area.
Though he has been working with wood for many years, Olmsted began his business a few months ago when Lauren, who does design work with Dream Home Constructions, volunteered him to build some pieces for Jenkins Flooring. When others in the community began seeing the pieces he made there, the custom orders began coming in.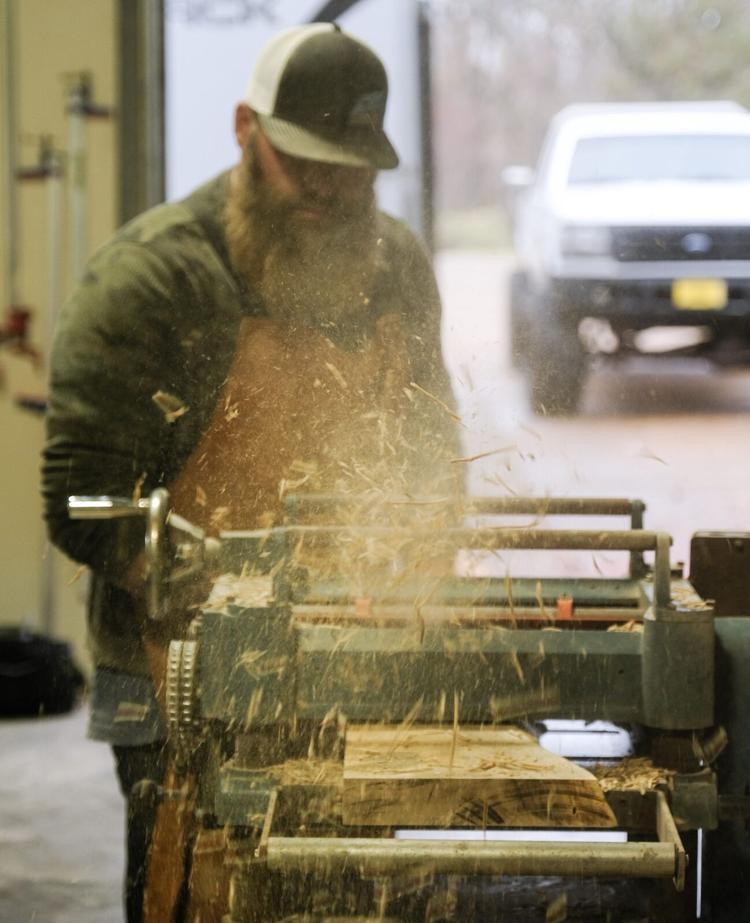 There have been so many custom build orders recently that Olmsted has not had time to make other pieces for his web store on Etsy. As the demand for this sort of precise woodworking, which is relatively rare in the county, has become evident, Olmsted got excited about the opportunity of doing what he loves full-time.
Whether he had to have another job or not, he said he would be working with wood.
"I really just enjoyed the peace and the tranquility of sitting there and sanding for six or eight hours, believe it or not," he said.
Olmsted honed his craft by learning from his grandfather's woodworking, which often used no screws or nails. Instead, back in those days, wood was expertly worked to fit together perfectly.
"He showed me the passion and true art of building things out of wood," he said.
In his Nesbit workshop, located next to his house, he has learned to take on just about any project involving wood: tables, mantles, nightstands and counters, just to name a few.
Just because he hasn't made something before doesn't mean he can't make it now — it just takes more time, like the 150-year-old barn door that he made into the mantle in his home.
"If I've never built it, I figure it out," he said.
Every piece, though, is original.
"I'm an artist, and I try not to ever duplicate anything," he said. "The originality of a piece is very important for me."
Though Olmsted now benefits from decades of time-saving tool innovations, he still uses the craft he learned along the way, sometimes taking 20-40 hours to build a table that meets his standard.
"I'm so particular when I'm building pieces that I don't know that they'd be able to handle me," he said. "I'm horrible about watching the clock."
That has allowed him to build pieces — all of which he tests himself — that will stand up to the test of time, he said.
"As long as I'm a woodworker and it breaks, bring it back to me and I'll fix it," he tells his customers.
Olmsted, like many, began working from home this year — but largely for a different reason.
"Recently, God gifted me with having my daughter full-time, who has autism," he said, adding that being home has given him extra time to help her with school work.
Most days, he gets her ready for school, drops her off, and then works on various projects for the rest of his workday.
"I'm really enjoying — for the first time in my life — being able to work from home," he said. "It's amazing that I've been able to come this far in such a short amount of time… It's like a dream."