Coverage of the coronavirus pandemic is vital, but those working to combat the virus each day are sometimes lost in the frenzy. In this weekly series, Behind The Front Lines, we meet the people working diligently through the pandemic. 
Kara has been wearing a lot of different hats — and masks — since the coronavirus pandemic changed the operations of Methodist Hospital Olive Branch.
She normally works in the cath lab, often clearing heart blockages and treating patients who have had heart attacks or other serious cardiac conditions. Now, she said that her job has changed in "just about every way."
Kara now works all over the hospital, offering her perspective and experience as a nurse with a background in emergency care, especially in the cath lab. She even found herself in front of the main entrance of the hospital, testing people with COVID-19 symptoms for the virus.
"Coming from an emergency background, it really wasn't all too unfamiliar to me in a way just because you're doing a lot of similar things," she said. "You're kind of just getting an idea of what's going on."
Though she cares for patients across the hospital in many settings, she has always had a particular interest and affinity for working in the cath lab with cardiac patients.
"It was actually pretty early on one of the first days that I'd actually been able to come up and participate in a procedure and see an emergency procedure, and I knew pretty much then and there that this is where I need to be," she said.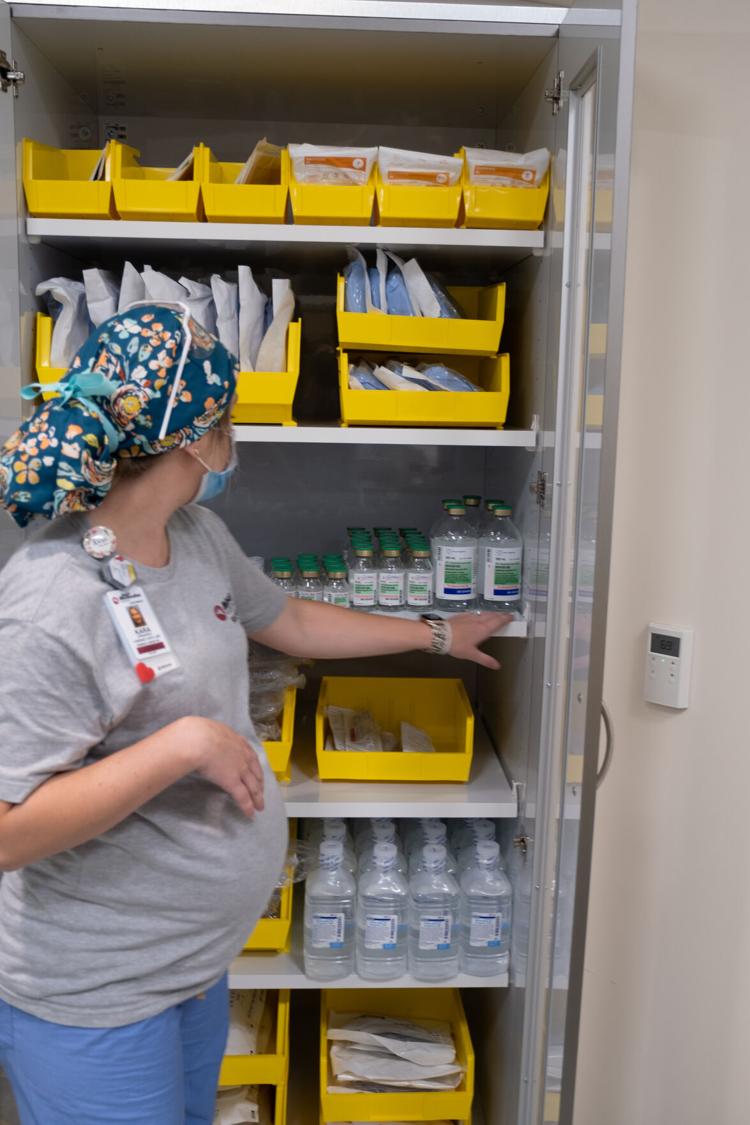 Kara emphasized how quickly she can see a change in a patient after working to clear a blockage. When someone comes into the cath lab — a room full of cabinets, wires and equipment to determine the issues causing the problem — they often have crushing chest pain, can't breathe and can hardly communicate.
"You can just physically see, you know, the pain and the effects that their heart attack is having on them," she said. "And then to go in there and open that blockage up and then just see that they have no pain and they're able to breathe — they're able to communicate. It's just incredible. It really is."
The team works to have an intervention in 90 minutes or less from when the patient checks into the hospital. Even though the cath team has seen a decrease in patients amid COVID-19, they still see and treat patients — including those who are having heart attacks, which come in waves, Kara said.
Even when patients aren't having heart attacks, Kara and the others in the cath lab treat people with a variety of conditions, working with doctors and other hospital staff to provide complete care for patients.
Whether testing patients in cars in front of the hospital or treating heart attacks in the cath lab, Kara is drawn to serve those around her.
"I kind of always knew I wanted to be a nurse just because I really enjoyed serving people," she said. "And I always have and I kind of thought, you know, what better way to do that than to be able to provide care for people and their families on what, some days, can really be one of the worst days of their life."