If you're walking down the hallways of the Silver Creek senior living facility, there's a good chance you've noticed her room. When her door is not decked out in Hanukkah decorations, it's covered with large handmade wreaths bearing silk sunflowers.
Naomi Rhoden, who has lived at Silver Creek for six years, has published poetry, recipes and cartoons in her life. Besides her published work, she has also dedicated her life to teaching others about her Jewish heritage and why it is so important to her. 
When she wasn't working on her newest recipe, she was working in her sunflower field at her home in Clarksdale. Though she said she loves cooking, sunflowers are what make her the happiest. 
Naomi, lovingly dubbed "The Sunflower Lady," wears her nickname proudly. Her jewelry, clothes and even face mask reflect her love for the flower. She became interested in sunflowers after she moved back to Clarksdale, her hometown, after spending years in Atlanta.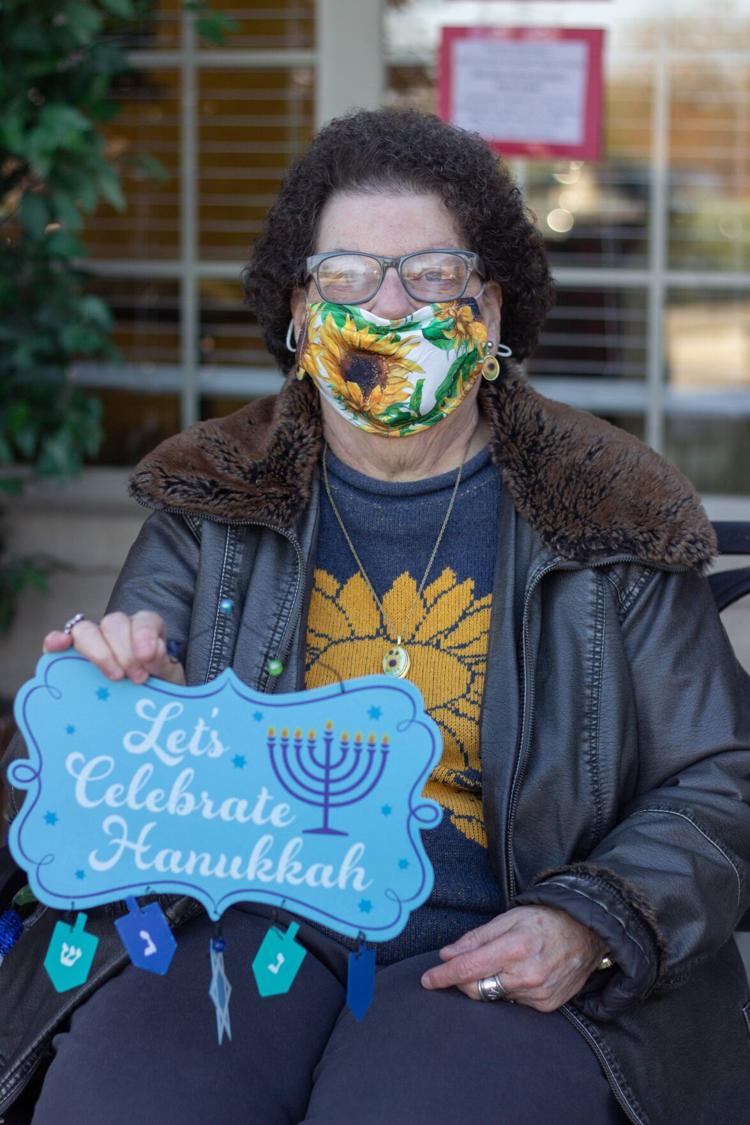 She had always loved flowers, Naomi said, and took a liking to silk sunflowers. Her interest only grew, and she began growing sunflowers behind her large home on a hill, which she remembers fondly.
Her small garden of sunflowers grew and grew, attracting visitors who wanted to pick the flowers and take photos of them. Naomi said her sunflower field became quite popular, but she didn't mind, because she said that it meant she would get to meet more new people. 
Naomi grew the sunflowers for her own enjoyment, and for her visitors' as well. 
"It really is my happiness to raise sunflowers," Naomi said. "I really enjoyed meeting people through my sunflowers."
Though her family is scattered throughout the mid-South — from Oxford to Atlanta — Naomi has no problem making a family out of whomever is around her. She spends time with her fellow Silver Creek residents, hearing their stories and sharing hers over community mealtimes. The meals, while she enjoys them, make her miss having her own kitchen.
Naomi, an experienced baker, has published a number of cookbooks filled with her favorite recipes and even a couple of her original cartoons. Her unique recipes, like potato chip cookies, are folded in with her traditional Hanukkah dishes and recipes from her closest friends. 
Growing up in a Jewish family, Naomi celebrated Hanukkah each year. In her apartment now — though she isn't allowed to have real candles because of a fire hazard — she has multiple menorahs to celebrate the holiday. As the only Jewish resident at Silver Creek, she enjoys talking to her fellow residents, telling them all about the history of the holiday and how she celebrates. 
While Naomi lived in Atlanta, she spent the holiday season traveling to different schools in the area, teaching students all about the Hanukkah celebrations, much like she does at her newest home. She taught children what each candle in the menorah represented and what the holiday meant to her. 
"I've always liked to be around people and speak to people," she said. "I like to do things for people."
As the pandemic has prevented many visitors from coming to see her, Naomi has adapted, she said. While circumstances are still uncertain, she's hopeful that restrictions will be lifted and she'll be able to share her stories with friends and visitors soon. 
"We don't know what's going to happen, but we're just doing the best we can," she said.