Coverage of the coronavirus pandemic is vital, but those working to combat the virus each day are sometimes lost in the frenzy. In this weekly series, Behind The Front Lines, we meet the people working diligently through the pandemic. 
It doesn't take long following Teireney Wilson through the hallways, rooms and labs of Methodist Olive Branch Hospital to feel the magnetism of her bright smile and brighter spirit that pulls doctors, nurses, staff and patients toward her.
She simply walks in a room and people will appear — popping out from behind doors and corners, emerging from other rooms at the sound of her voice. She arrives at new locations all across the hospital, often with a cart full of sanitizing supplies in tow, marking a highlight of the days of all those she sees.
"Our favorite!" exclaims one lab technician when Teireney entered. She is part of the lab family, she said, just before entering.
Teireney sanitizes various areas in the hospital, which has come to be one of the most vital parts of keeping the patients safe during the coronavirus pandemic. Her cleaning and sanitizing is thorough, as if she were cleaning to protect her own family members — she admits that she is "a little OCD," which certainly doesn't hurt.
Still, after following Teireney for just a few minutes, it becomes clear that cleaning is not the most important work she does in the hospital. She has become a minister of kindness and empathy in the most difficult of situations, and her ministry is evident all over the hospital.
"I just want to do what I can to make you smile and feel better," she said. "It's just who I am."
A self-proclaimed "country girl" who was born in Memphis and grew up at her grandmother's house in Nesbit, Teireney loves DeSoto County, from the landscape to the people who inhabit it.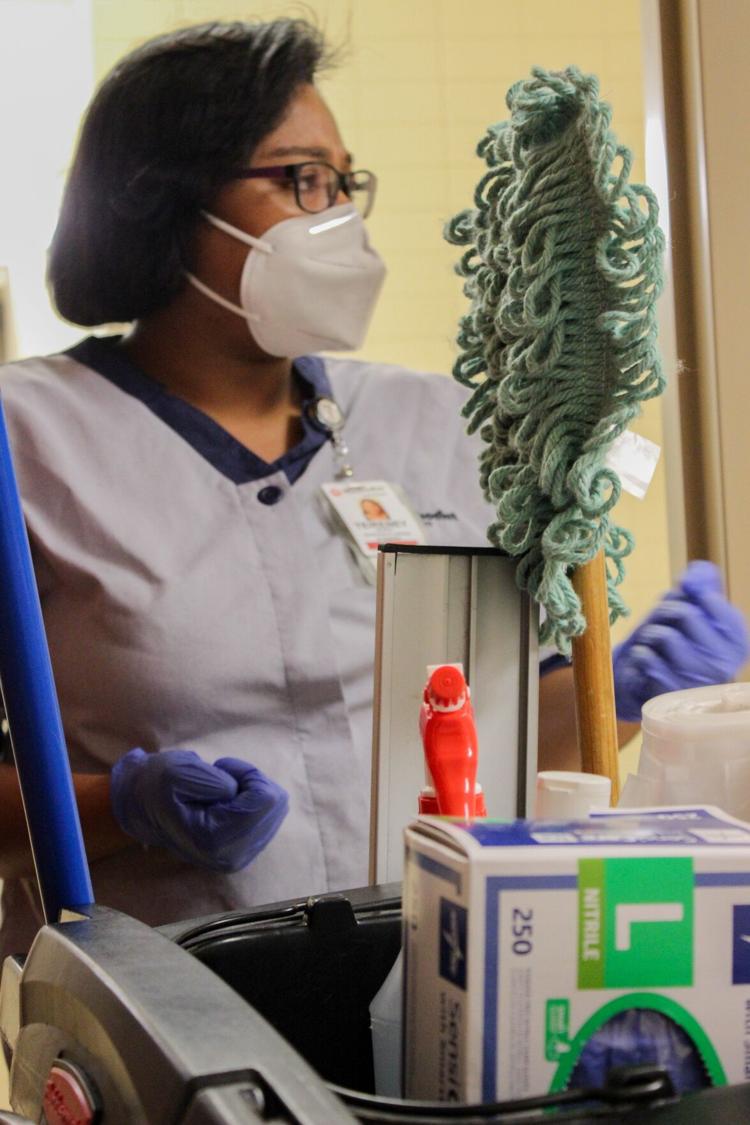 Empathy and care are innate in Teireney's character, but they were also learned and developed in the kindness and care that she has experienced in her own life.
Teireney knew she wanted to work serving people, but working in hotels seemed too impersonal to her. Still, she is "the type of person who can't just sit still," she said. Now, working at the hospital in Olive Branch and as a home health care worker nearby, she has found "a different connection" from what she experienced in hotels.
While her grandmother was a patient at Methodist hospital, she remembers, the care she received touched her so deeply that she became "a Methodist person," with a loyalty to the hospital network in which she now works. The treatment was wonderful from her admission to the hospital to her death.
The care touched her so much that she still brings it up to the nurses that work there, even today. She also brings the care up in her own mind as she works to care for the patients and their families who come to the hospital.
"I want to do something… going the extra mile… making sure you feel better," she said. "I love to put myself in other people's shoes."
As the pandemic changes so much around the hospital, Teireney is finding herself in a new world. Her world is changing even more as she is expecting her first child.
"It's the pandemic," she said of the pregnancy, laughing. "The pandemic did it to me."
Because of the risk to her and her child, Teireney doesn't clean as many patient rooms now, which she misses a lot, she said. The halls are quieter with fewer visitors allowed inside. She works diligently, with glasses fogged up from wearing a mask, and others in the hospital work to serve her, even in little ways, like lab technicians breaking down boxes to make them easier for her to move.
Teireney still works to connect to and serve whoever she finds around her, from nurses, doctors, lab workers or even security guards on the campus — whether creating spaces in which people can be safe from the virus or safe emotionally. She still smiles — even if it is hidden under a mask. She greets people by name. She listens.
"Talking to my people," she said. "No other place I'd be."